OUR MEMBERS IN SPAIN
Carmen Pardo-Valcarce Foundation (FCPV)

Monasterio de la Huelgas 15
28049 Madrid
Ms. Almudena Martorell: almudena.martorell@fcpv.es
www.pardo-valcarce.com
Facebook
We are working for the rights of people with intellectual disabilities and their participation in society.
Training, employment, integration into the labour market, sport, leisure, clinical and psychological support, individual follow-ups, innovation, research and independence allow us to close the loop surrounding the labour force and social participation of people with intellectual disabilities. In 2008, the United Nations included the Foundation in its Business Guide, a list of eighty-five of the world's most reliable Non-Governmental Organisations to form alliances with companies.

---
CONFEDERACIÓN NACIONAL DE CENTROS ESPECIALES DE EMPLEO

Femades 19
08907 L'Hospitalet de Llobregat (Barcelona)
Ms. Angels Llongueras: mallongueras@conacee.org
www.conacee.org
Facebook
CONACEE was founded in 2000 as a statewide association whose members are mainly special employment centers. Our activities are focused on the defense and support of the legitimate interests of the Special Employment Centres contributing to the promotion of socio-labor integration of people with disabilities. We advise and support these companies and act as partners and spokespersons before those bodies, authorities and institutions where our presence is beneficial for the sectors we represent.
---
The social services regional managing authority of the Castilla y León regional government (GSS)


Padre Francisco Suaréz, 2
47006 Valladolid
Mr Reyes Pérez Rico: perricre@jcyl.es
www.jcyl.es
Facebook
The GSS is an autonomous and public organiсation responsible for the design, planning and management of social services. It promotes support and care for families, children, young people, people with disability & seniors, and stimulates health and social integration of people suffering from dependency and exclusion.
Member since 2015
---
Guardianship Girona Foundation

Santander 1, Balxos
17005 Girona
Ferran Blanco i Ros: ferran@fundaciotutelar.org
www.fundaciotutelar.org
Facebook
The Guardianship Girona Foundation is an independent, non-profit organisation established in 2013. Its main purpose is to defend, promote, develop and extend the rights of people with mental health disabilities, intellectual disabilities or cognitive impairments due to old age, whilst enabling individuals to pursue their well-being, ensure their dignity and preserve their autonomy through legal protection and social support.
The organisation's vision encompasses a globalised focus, although it's certain that the recently introduced support mechanisms to exercise legal capacity span to a large and specific target group, Girona Foundation believes that its expertise in guardianship services has the potential to become the starting point to fully develop support services that generate a more inclusive society in collaboration with providers committed and aligned with Human Rights expanded through CRPD's previsions.
Member since 2015
---
EMPLEA FOUNDATION

Avenida de Juan Carlos I, nº41
3440 IBI, ALICANTE
Mr Fernando Bellver Silván: fbellver@fundacionemplea.org
www.fundacionemplea.org
Facebook
Fundación Emplea was created in 2008 by the Spanish Association of Supported Employment (AESE) with the Mission of enhancing the methodology of Supported Employment and innovation in employment programs for vulnerable groups. It is postulated as an entity that collects the main Spanish entities performing Supported Employment or actions proposing innovations within employment. The foundation is a non-profit, public interest purpose predominantly of assistance and social integration. Fundación Emplea spreads large number of initiatives and projects, becoming an influential entity in innovation for jobs and to overcome social exclusion.
Member since 2015
---
Educational Platform Private Foundation (Fundació Privada Plataforma Educativa)
Garrotxa 7
17006, Girona, Spain
Mrs. Irene Kopetz: idea@plataformaeducativa.org
www.plataformaeducativa.org
Educational Platform is a group of social entities, created in 1994 and with 20 years of experience. Over 500 professionals from multiple disciplines work together to promote the quality of life of individuals and groups at risk of social exclusion. The main fields of work are disabilities, infancy, community work, training, labour insertion and cooperation. Educational Platform works with and for people with intellectual disabilities to promote their inclusion and their level of autonomy from an integrated and individualized perspective.
Member since 2016
---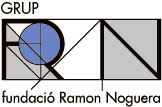 Grup Fundació Ramon Noguera (Grup FRN)
C/ Indústria, 22, 17005
Girona, Spain
Mrs. Josepa Perich Pujol: pperich@grupfrn.cat
www.grupfrn.cat
Facebook
Grup FRN is a non-profit group of entities based in Girona which aims to guarantee the quality of life of people with intellectual disabilities and their families. The Group consists of three Foundations: Fundació Ramon Noguera (FRN), Fundació Mas Xirgu (FMX) and Fundació Montilivi (FM). Cross services are led and executed by FRN. This entity is the central axis of the Group. FMX is an entity whose objective is the social and labour integration of adults with intellectual disabilities by means of offering a job position in a Special Employment Centre or in a conventional work place. FM is an entity whose objective is to manage centres and services for adults with intellectual disabilities and children with development disorders.
Member since 2016

---
Espurna Foundation

Calle Peller, num. 81
46702 Gandia (Valencia)
Antonio Garcia Sabater: antonio.garcia@espurna.org
www.espurna.org
Facebook
Foundation dedicated to the social and labor inclusion of people with intellectual disabilities.
Member since 2016